POLITICAL GENERAL COURSE (Online & Free)
The aim of Political General Course (PGC) of National Academy of Political Awareness is to educate the masses of the country, to teach them principles of democracy and political ideas, and notions in order to enable them to check and examine the working of the elected representatives, the ruling party and the government, and make them responsible before the nation. The intending students may get admission in the Academy and take up the course while sitting in their respective homes.


The Political General Course (PGC) consists of an Examination Paper of 20 Questions which is prepared under the guidance of the specialists of repute. The Examination Paper contains the questions on local as well as global politics, history, geography, current affairs, religion, sociology, economy, constitution, political set up etc.
The result shall be announced as under:

| | | |
| --- | --- | --- |
| Grade | Correct Answers | Percentage |
| A | 15-20  | 75-100 |
| B | 10-14 | 50-70 |
| C | 06-09 | 30-45 |
| D | 00-05 | 00-25 |



The paper of Political General Course (PGC) shall be taken on quarterly (3 months) basis. The certificates to the successful students of grade A,B, & C are sent at their given addresses by post.


Political General Course (PGC) fee is Rs.10,000/-. However, till 31st December, 2012 only a sum of Rs.1,000/- is collected on account of administrative expenses of the Academy. This amount shall be paid by the students/participants as per procedure set up by the Academy. In case the amount is not paid, the Academy may refuse the admission in the Course.



The students shall be allowed to appear in one paper only. In other case last paper shall be accepted and other papers shall be rejected.


Participation in Political General Course (PGC) shall be allowed on the basis of honestly, good-will and legitimacy. However in certain cases affidavits may be required from any student.


The Academy shall not be accused any degrading, dishonour and blasphemy. At the time of preparing Question Paper, only general knowledge is taken in view.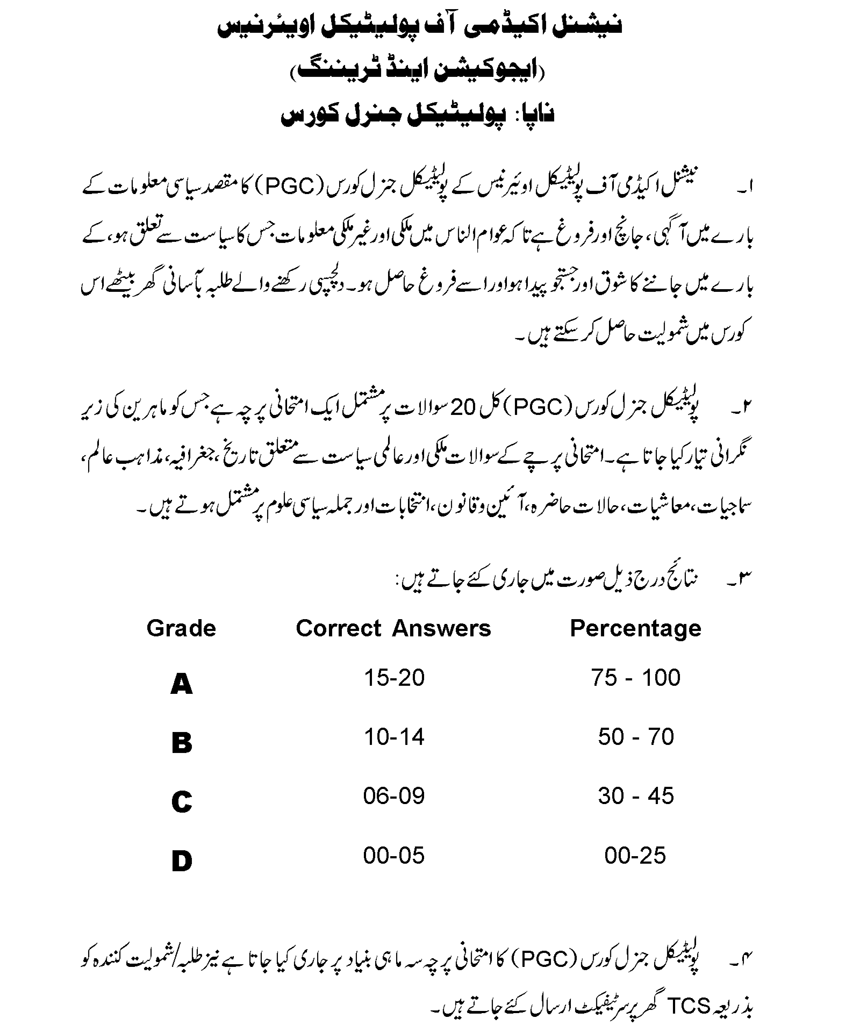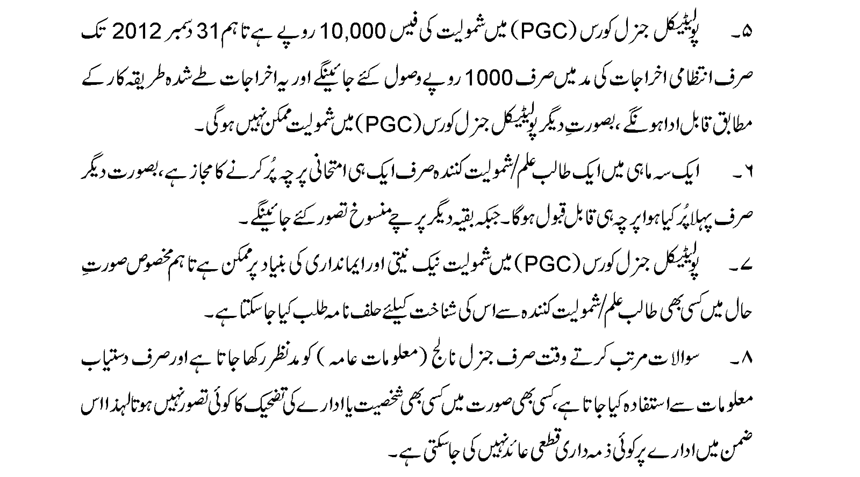 CERTIFICATE OF EXCELLENCE